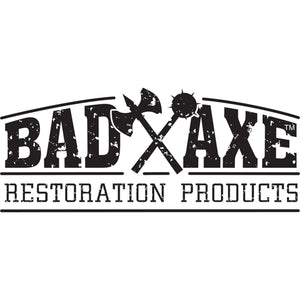 Bad Axe Sponsors White Paper Regarding Mold Stain Removers and NY Mold Laws
Questions regarding the use of mold stain removers answered in new report by industry expert Michael Pinto.
 Frankfort, IL, May 2, 2018
Back in 2016, New York State's Department of Labor began enforcing Article 32 of the agency's new Mold Program. It established licensing requirements and minimum work standards for professionals engaging in mold assessment and remediation inside the State of New York.
Now, two years later, a litany of questions about the products and chemicals that can now be utilized still abounds. Questions about the use of chemicals are in relation to the New York law which states: A mold assessment licensee who indicates in a remediation plan that a disinfectant, biocide, or antimicrobial coating will be used on a mold remediation project shall indicate a specific product or brand only if it is registered by the United States Environmental Protection Agency for the intended use and if the use is consistent with the manufacturer's labeling instructions. (Article 32; Licensing of Mold Inspection, Assessment, and Remediation Specialists and Minimum Work Standards; Title 2, Section 945.3)
Many New York licensees have asked specifically mold stain removing products like the industry's standard, MMR mold stain remover, were "legal" according to the program.
 "Most manufacturers of mold stain removers do not overtly advertise their products as performing mold remediation, but rather as products to enhance the appearance of a surface," said Chris Heller with Bad Axe Restoration Products.  "Mold stain removal is clearly not a substitute for mold remediation, but leaving behind stains is not likely to meet customers' expectations. Instead, stain removal activities should follow or enhance traditional mold remediation activities that complete the fungal removal process. As such, mold stain removers such as MMR are still acceptable, post remediation, for use throughout New York."
 A more comprehensive review of this subject is documented in the white paper, "The Peculiar Place of Mold Stain Removers in the Restoration Industry."  It was authored by Michael A. Pinto, chief executive officer of Wonder Makers Environmental, Inc., and one of the mold industry's most recognized professionals.
The white paper was commissioned by Bad Axe Restoration Products.  To request a copy of the white paper, please contact Bad Axe Restoration Products at 815-277-5100 or email cheller@badaxeproducts.com.
---